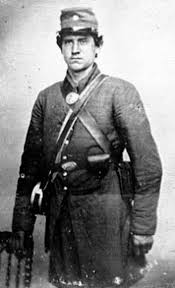 by Christy Vanderburg
For many years there have been legends about phantoms, sirens, ghosts, and demons lurking in the woods of North Carolina.  Legends such as the legend of Tom Dooley.
Most of the legends people have never heard of, however, the legend of Tom Dooley is the most well know; especially to the locals of Wilkes County, North Carolina.
Local high schools, and community colleges enjoy putting on plays about the well-known event from 1866.
"It is a stunning drama that brings the romance, jealousy and mystery to life," said Karen Reynolds, director of a play about Dooley.
The people of Tennessee also know this tale. The part of the story that most people leave out is that when Tom Dooley was convicted of murder, Anne Melton, the woman who was madly in love with Tom, fled to Tennessee.
The tale has haunted these states for over two centuries and has caused people to not want to visit them anymore.
"When people hear about the legend of Tom Dooley," said Reynolds, "They tend to lose interest in visiting us."
On the other hand, some people are highly fascinated by the legends of Wilkes County and want to see what it is all about.  There are always those people that say it is a scam or it is just a legend.
The question most are left with is: is it true?