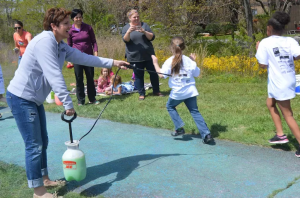 On April 15th Brevard Elementary School hosted the BES Color Run. At the color run BES students ran around the track for money and were splashed with color every lap that they ran. The color run was a fundraiser for the school that took the place of the fall festival.
The football team and the cheerleaders from the high school helped out for their community service.Junior Daniel McJunkin said "It's good for the football team to get out and help the community and it's fun to help these little kids because they look up to you and it's such a big deal in their lives.¨
Having the high schoolers there was a big help and the children enjoyed seeing them all there.
Sophomore Nina Kelly said "We had the colors and we were spraying the kids with them. We helped refill the water and we helped the kids have fun because that's what we are out there to do.¨
The first annual BES color run was definitely a success and the kids can't wait for next year.